Welcome to our world of beautiful, purpose-bred Kuvasz and Pumi 
I first began in purebred dogs as a child in 1973 showing a pet store purchased Siberian Husky named "Lobo" (Registered name Lobo Fiel) in Junior Showmanship and Conformation. Lobo was a wonderful dog and a beloved pet, but not a particularly good show dog. Despite our hard work together he never managed to win a single point. We did get a few placements in Junior Showmanship and even a First place once at the Bronx County Kennel Club. Despite our utter lack of success I was completely bitten by the dog show bug. It was during that time I bought a copy of the AKC book of dog breeds and saw my first Kuvasz.  Reading the description of the breed's temperament and looking at those beautiful white dogs it was love at first sight and vowed to someday become a serious breeder/exhibitor of Kuvasz .
My academic path forced me to take a long hiatus from dogs. After graduating College and Law School I obtained my first Kuvasz around 1990. Dealing with a rare breed had many challenges as there were not many local mentors and this was before the age of the internet.  Nonetheless through hard work and perseverance we have enjoyed modest success in the breed of which we are proud.
For me, part of being a responsible breeder meant becoming actively involved in the Parent clubs for the Breed.  The Parent Club of any AKC breed is responsible for the Breed Standard and supporting fanciers. I have volunteered in service for decades to both the Kuvasz Club of America and more recently the Hungarian Pumi Club of America.  Among the offices I have held are as follow:  
KUVASZ CLUB OF AMERICA
~ PRESIDENT (2 Terms)
~VICE PRESIDENT
~ BOARD MEMBER (Multiple terms)
~NATIONAL SPECIALTY CHAIR
~AKC DELEGATE
~AKC GAZETTE COLUMNIST
~BREED STANDARD COMMITTEE
~JUDGES EDUCATION COMMITTEE
~CONSTITUTION COMMITTEE
HUNGARIAN PUMI CLUB OF AMERICA
~PRESIDENT
~BOARD MEMBER
~VICE PRESIDENT
~CONFORMATION COMMITTEE
In 2022 I was approved by the American Kennel Club as a Judge for Kuvasz and Pumi (AKC Judge number 110565)   https://www.apps.akc.org/a/judges_directory/index.cfm?action=results
We are proud to also be a certified  AKC "Breeder of Merit" of both Kuvasz and Pumi.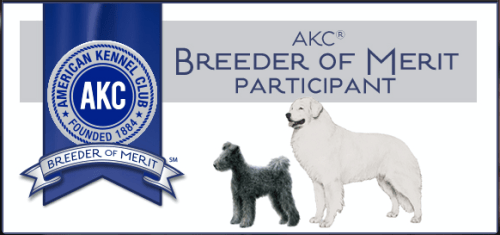 Also important to being a successful breeder is to collaborate and partner with like-minded breeders. Around 2014  I began co-breeding with my friends Deborah Blank (Glacier Creek Kuvasz) and Randy Ham (Peachtree Kuvasz) in furtherance of our goals of producing not only Kuvasz of excellent type but of the traditional athletic, light-footed soundness and strength.  Tantamount to our shared goals was breeding Kuvasz with consistent, reliable and excellent temperaments.  Intelligent dogs that were innately intuitive and able to discern friend from foe without direction.   We found that our bloodlines complimented one another wonderfully we have produced many great Kuvasz in our work together including, but not limited to the Top Winning Bitch in Kuvasz Breed History "Mo'Ne" 
Although the Pumi is an ancient breed and long recognized in Europe, it was not recognized into full status by the AKC until 2016. I became involved in the Pumi breed in 2015 when it was still in the Miscellaneous class and before it became part of the Herding Group.  I obtained my foundation stock from Debbie Thornton who's dogs were imported from various Hungarian breeders and began my breeding program at that point.  My breeding partner Terrie Cowan and I have enjoyed success and we are excited about what the future holds for these wonderful little dogs.
If you would like to learn more about our dogs or the breeds please feel free to contact me 
(949) 981-7646